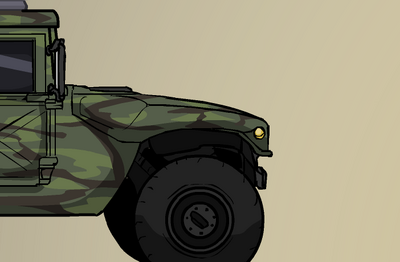 The Humvee is a vehicle that acts as an obstacle in Road of the Dead (RoTD) and the primary vehicle in RoTD2
Appearances
Edit
In RoTD it is seen in checkpoints and on the road, while in RoTD 2 its the primary vehicle and it is also seen in the checkpoints in and around the city. In LoTD it is subtly mentioned, as it is seen on the main menu screen, parked outside the lab
Description
Edit
Road of the Dead
Edit
The Humvee in RoTD is primarily used as an obstacle and has no major effects on the main story.
Road of the Dead 2
Edit
It is the vehicle you drive in RoTD 2.
It has no glass in RoTD 2 and if zombies cling onto the hood, the secondary driver (Diane or Cocheta, depending on who's driving) will have to shoot it off.